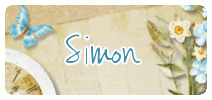 Here is the card I´ve made for the new Simon Says Stamp and Show week challenge, for which you had to work with some paint. I decided to paint the edges of my card and the ghost butterflies, just whit a dabber. I still had to make a card for my BFF
Sandra
to congratulate her because she is one of the lucky ones that were selected for the DESIGN TEAM of SIMON SAYS STAMP!!! She truly deserves it and I am so proud, she makes BEAUTIFUL and AMAZING projects,
look over here what she did with this weeks challenge!
This is just so COOL, you have to see it...
Come on and play along at Simon Says Stamp, you still got some time to play along and to PAINT IT UP ...
(my congrats stamp is not listed, I have so many beautiful stamps and I just don't know any more which brand this is)